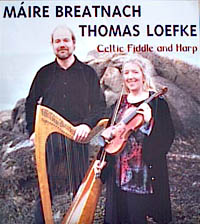 The CDs "Norland Wind" and "Atlantic Driftwood" started off the musical collaboration of Máire Breatnach and Thomas Loefke. At the beginning of the year 2001 Máire joined the group "Norland Wind". In their duoprogram Máire and Thomas play original compositions with strong Irish roots. Fiddle and harp combine to generate haunting soundscapes full of emotional energy, creative tension and sheer beauty.
They play as a duo or as a trio featuring
keyboarder / guitarist Matthias Kießling.
Church organist Dirk Bergner joins them for their church program "A Musical Celebration of Spiritual Ireland."


Máire Breatnach is a musician of exceptional calibre on the Irish music scene. An accomplished violinist and composer, she has participated in almost all of the leading Irish music recordings of recent years, playing a variety of instruments including fiddle, viola, whistle, piano, keyboards and guitar, and she is also widely known for her studio session work and for her expertise as an arranger, producer and composer of many outstanding film scores. As the initial fiddler with "Riverdance - The Show" she worked closely with Bill Whelan, performing on the original CD, and has also worked with, amongst others, Nigel Kennedy, Mike Oldfield, Christy Moore, Donal Lunny, Altan, Mary Black, Donovan, Alan Stivell, Dolores Keane, Sharon Shannon and Sinéad O'Connor. Máire's film and TV music credits to date include "In the Name of the Father", "The Secret of Roan Inish", "Rob Roy", "Voyage", "A Freezing Summer" and "Angela Mooney Dies Again". Her group, "The Maire Breatnach Band", was awarded the title "Irish Folk Group of the Year" , and her CD's, "Angels' Candles", "Branohm: The Voyage of Bran" and "Celtic Lovers" are considered as classics both in the fields of traditional music and contemporary composition. Máire began her formal musical education at the age of 6 years in Dublin's College of Music, where she studied both violin and piano. On leaving school, she won the prestigious Eamonn Ceannt Scholarship for distinction in Music and the Irish Language. She later studied Music and Celtic Languages at University College, Dublin, and Ethnomusicology at Queen's University, Belfast, where she was a doctoral student of the late Prof. John Blacking.
"In a year when the standard of Irish music has never been so high, its going to be extremely difficult to surpass Máire Breatnach for creativity, musicianship, and sheer quality. She is simply a world apart." Cork Evening Echo
"The versatility that Irish music allows is rarely better exemplified than by the work of Máire Breatnach." Dublin Event Guide
"...reaffirms her status as a composer of original and markedly melodic tunes at that fertile point in the Irish soundscape where tradition connects with innovation." The Irish Times
"... is a work of genius that begs to be heard by every discerning fan of Celtic music in all its forms." Fiddlestix, Australia